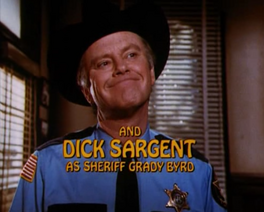 Sheriff Grady Byrd is a fictional character featured in the American television series, The Dukes of Hazzard. He was portrayed by Dick Sargent.
Grady Byrd was Boss Hogg's cousin and night watchman at the gravel pits for 20 years before he finally gave him the chance to fill in for Rosco Purvis Coltrane. Grady first appeared in "Officer Daisy Duke". While Grady did his best to live up to Boss Hogg's low expectations, it quickly became clear that Grady wasn't going to be a success at his new job. Grady left the job two episodes later and was followed by Buster Moon.
Appearences
Officer Daisy Duke
Jude Emery.
Ad blocker interference detected!
Wikia is a free-to-use site that makes money from advertising. We have a modified experience for viewers using ad blockers

Wikia is not accessible if you've made further modifications. Remove the custom ad blocker rule(s) and the page will load as expected.