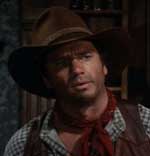 Hank Duke is a fictional character featured in the American television series, The Dukes of Hazzard. He was portrayed by Tom Wopat.
Hank is Luke's Great Granddaddy. He was not a native of Hazzard, but he did visit there in 1872 to help Jeremiah Duke fight off Thaddeus Hogg's attempts to steal the Duke farm. Hank and the others saved the farm, but not before having a showdown in the streets of Sleepy City with Hogg's hired guns, the notorious Frank and Jesse James.
Ad blocker interference detected!
Wikia is a free-to-use site that makes money from advertising. We have a modified experience for viewers using ad blockers

Wikia is not accessible if you've made further modifications. Remove the custom ad blocker rule(s) and the page will load as expected.