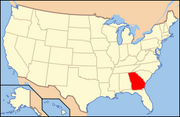 Georgia is a state of the United States, located in the south-east of North America at the coast of the Atlantic north of Florida. Georgia was established in 1732 and named after King George II of Great Britain. It was the last one of the original Thirteen Colonies and ratified the United States Constitution on January 2, 1788.
On screen
Georgia is the state where the fictional Hazzard County, the main location of the Dukes of Hazzard TV series and movies, is set.
Further fictional locations in Georgia are:
Images
External links
Ad blocker interference detected!
Wikia is a free-to-use site that makes money from advertising. We have a modified experience for viewers using ad blockers

Wikia is not accessible if you've made further modifications. Remove the custom ad blocker rule(s) and the page will load as expected.