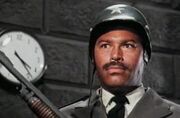 Sheriff Edward Thomas "Big Ed" Little is a fictional character featured in the American television series, The Dukes of Hazzard. He was portrayed by Don Pedro Colley. His first appearance in the show was in the third season episode "My Son, Bo Hogg".
Character Biography
Edward Thomas Little is the Sheriff of Chickasaw County in Georgia, a county next to Hazzard County. Ha has a wife named Rachel and a daughter.
Sheriff Little is a very tough and efficient law enforcement officer, quite different from Rosco Purvis Coltrane, his collegue from Hazzard County. He hates Bo and Luke who are not allowed to enter his county, but in spite of all his effort never succeeds in capturing them.