Portrayed By
Profile
Relationships
Production Information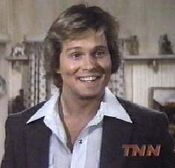 Coy Duke, the replacement for Bo, was another blond-haired cousin who moved to Uncle Jesse's farm along with cousin Vance (Christopher Mayer) after Bo and Luke left Hazzard to join the NASCAR circuit.
Character biography
Coy Duke, along with cousin Vance Duke, had previously lived on the Duke farm until 1976, before the series had started.
He had been a test driver in Detroit, before he and Vance came back to Hazzard in 1982.
Coy was a lot like Bo, according to looks like blond hair, and falling in love with various girls during their adventures.
He also loves action, and like Bo, he usually is behind the wheel of the General Lee.
Together, according to Boss Hogg, they "make Bo and Luke seem like choir boys."
Being written out of The Dukes of Hazzard
Both characters proved to be unpopular with fans and were written out after 19 episodes.
Cherry and Mayer replaced John Schneider and Tom Wopat while the latter two were in contract negotiations.
For more details on this topic, see: Bo and Luke leave the show
See also
External links
Ad blocker interference detected!
Wikia is a free-to-use site that makes money from advertising. We have a modified experience for viewers using ad blockers

Wikia is not accessible if you've made further modifications. Remove the custom ad blocker rule(s) and the page will load as expected.