Portrayed By
Profile
'CB' Handle
{{{'CB' Handle}}}
Occupation
Head of the Boss Clan
Affiliation
{{{Affiliation}}}
Relationships
{{{Production Information}}}
Created By
{{{Created By}}}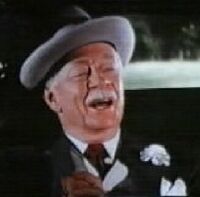 'Big Daddy' Hogg is a fictional character on the American television series The Dukes of Hazzard.
Overview
'Big Daddy' Hogg is the head of the Hogg clan.
He presents himself as straight as his son Abe Hogg (J.D.'s brother). However, deep down he's more crooked than Boss ever was. In fact, he is one of the biggest scam artists the south has ever seen, next to his son of course.
During one of Boss' frame-ups for Coy and Vance, 'Big Daddy' visits his son to see what kind of man he's become.
Episode Appearances